Heidi Burns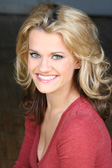 International Latin
Heidi Groskretuz (Burns)  is a six time US Open Swing Dance Champion, US Latin Finalist, and World Swing Invitational Champion. 
She is most known for her appearance on the hit summer show "So You Think You Can Dance" where she finished in the top four dancers!  Heidi has extensive training in International Latin, Swing, Jazz, Ballet and Rhythm Tap. 
Her television appearances also include: "Fox's Live New Years Eve Special," "The Tyra Banks Show," "Live with Regis and Kathilee", "Megan Mulally Show," Much Music on Demand," "Teen Choice Awards," "Inside Edition", and was the choreographer for the HBO feature film "Something the Lord Made."  
For the past two and a half years she lived in London touring internationally with her husband Donnie Burns MBE whilst appearing at the World's most prestigious dance events as a lecturer, adjudicator, demonstrator and coach.
She recently appeared on the 100th episode of "So You Think You Can Dance" where she showcased and was a featured dancer in two routines which both were awarded the coveted Emmy!