GROUP CLASSES AVAILABLE
PLEASE CHECK THE MASTER CALENDAR FOR DETAILS!
Level 1 Learn basics of WCS
Level 2 More basic patterns
Level 3 More basic patterns
Inter More patterns & turns
Adv Difficult patterns w/ turns
Int/Adv Styling & Technique
Nt Club 2Step 1 & Hustle 1
Int/Adv Nt Club 2Step 3-4
Hustle 1 & Nt Club 2Step 1
4 Different Dances over the 4 Weeks
***
SECOND SATURDAY OF THE MONTH DANCES!
Check the Master Calendar for details
Cover is $15, Special: Bring a friend for $12/person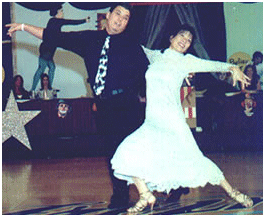 Don't forget Sunday Nights are Lisa's "Dance Night Out", 6:30pm-9:30pm, Dance is $8 ONLY!!!
Come for Intermediate WCS Lesson at 6:30pm and $10 includes the dance!
Dance starts at 7pm, cover $8, light snacks.