Marcus Johnson was born and raised in California and it was his destiny to dance!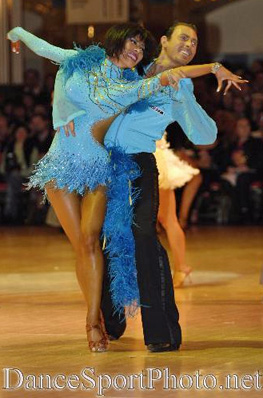 His parents, Patrick and Wendy Johnson, were an award winning dance team and are currently world-class judges and the owners of seven Arthur Murray Dance Studios.

Marcus started dancing at age seven and is considered one of the hottest rising talents in Latin dance today.
By the time he was eight years old, Marcus had been on the Merv Griffin Show dancing a Cha Cha.
Marcus has been teaching Ballroom and Latin dancing for 6 1/2 years and been competing professionally for 3 years.
He and his partner won the Rising Star Award at the Hawaiian Star Ball.

During his career Marcus has made the finals of many competitions in the USA including 4th place in the Rising Star division at the Heritage Ball and finalist in the Rising Star category at the Ohio Star Ball. In Florida, Marcus won the Latin Open at the Sunshine State Competition.
Marcus has performed in many shows including one at the MGM Grand Casino on New Year's Eve.
He is currently dancing with Yuki Haraguchi.